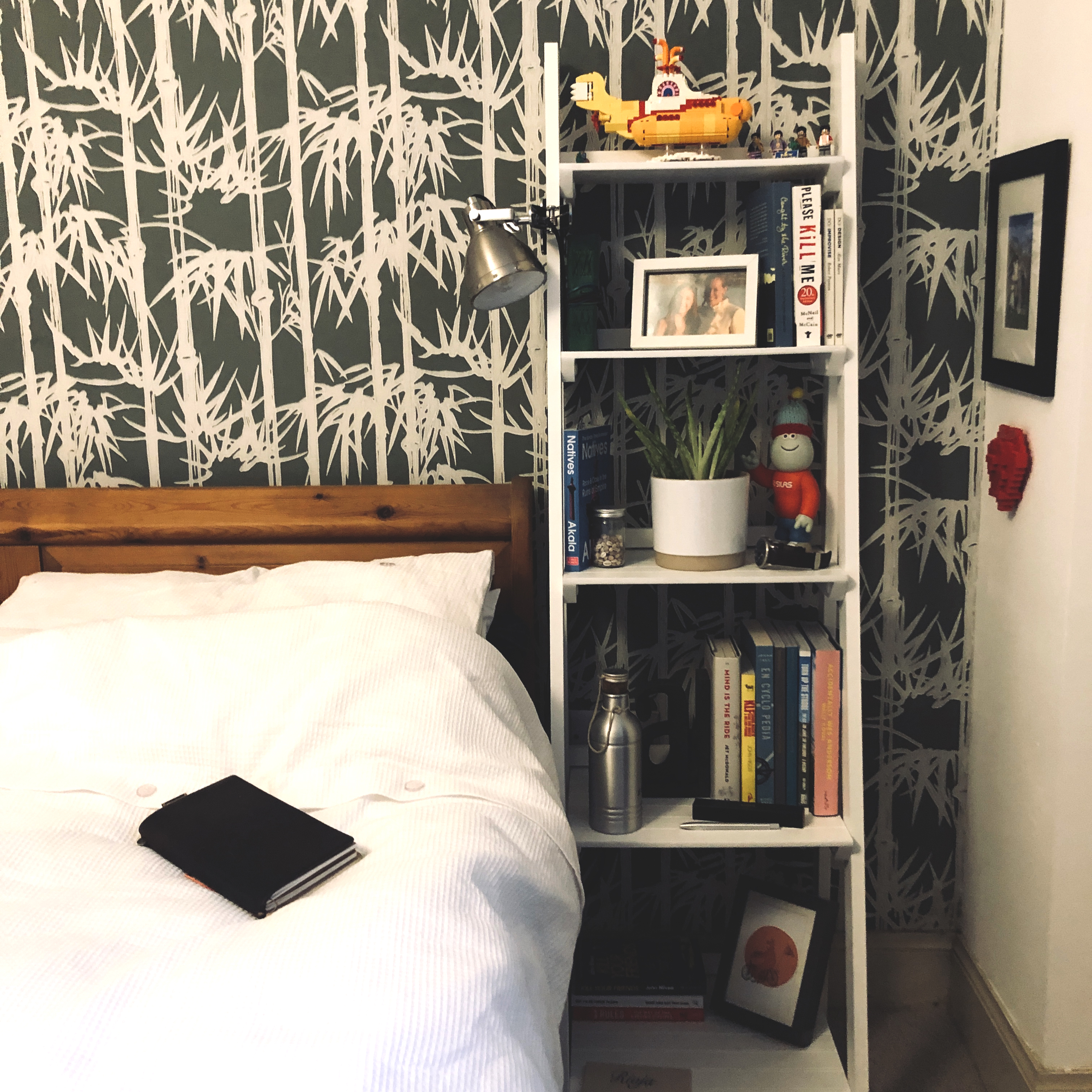 Through The Key Hole

I've never been a fan of the 'bedside table'. I'm happy to have one if I am staying away in a hotel, or a self-catering place. It's temporary, I just need to be able to find my phone, my book and some water during the night. Functional, simple, easy.

Beside my own bed it has taken me an awfully long time to know what suits me best and it happened by accident. This unit was sold as a bathroom thing, but who needs to go with other people's definitions?

I now have something I have always wanted, a solution; a place to have some books, some keepsakes, precious photos and some inspirations. Easy to keep tidy (and that's really important to me, because I am a complete bin!) and it looks great. Sometimes the least obvious idea is the best solution.

If you want more detail of what is on my shelves, please read on. If not, thank you for reading this far.

—————–

From top to bottom…

Top shelf – I'm a big Lego fan and a big Beatles fan, so when this Beatles Yellow Submarine set came out in November 2016, my super lovely wife knew that I would adore it and it arrived as a Christmas present. Collectors would have left it in the box as an investment. I get much more joy seeing it every day.

Second shelf down – you can almost see on the left hand side the green, handmade, leather bound note/sketchbook given to me this year – a reminder that I need to sketch more and write more. Then we come to the picture, life is both simple and complicated at the same time and this photo of my elder daughter and my wife (taken on the day my wife and I got married) is a reminder of exactly that. These two smiling faces greet me every day.
Book list – 'Caught By The River' – a dip in selection of stories that I bought at a Heavenly Recordings weekender in 2016; 'Please Kill Me', the uncensored history of punk, in my reading pile; then two books from the 'Do' series, 'Do Improvise' and 'Do Design'.

Shelf three – my current long reader, Akala's 'Natives' (what a read!), propped up by a jar of cowrie shells, collected from many beaches across Scottish islands. Then we come to my Aloe Vera plant, it's just there, I like it and it is being worshipped by my Silas toy, 'Martin, designed by James Jarvis, one of the first and most collectible figures (with an added Innocent bobble hat) given to me more than twenty years ago as a bittersweet leaving present from the only day job I've ever really loved. Then there's my watch. I call it my 'fuck you' watch, it wasn't hugely expensive, it is made by Elliot Brown, it's heavy but it is cool as…

Next shelf – my L'Eroica bidon, made by Elite, originally bought to go on one of my bikes, but, Life Stuff it has turned out to be the ideal bedside water bottle. No need to unscrew a lid in the middle of the night, with the noise that that entails, just unplug the cork and slurp (with the noise that that entails). No spiders get in. Safety! In front of the books, my precious pen, made by Ajoto, truly a piece of modern craftsmanship.
Book list – 'Mind Is The Ride' by Jet MacDonald; 'KLF, Chaos, Magic and The Band Who Burned A Million Pounds' by John Briggs; 'En Cyclo Pedia' by Johan Tell; the two 'best of' volumes of the wonderful 'Boneshaker' magazine; 'Turn Up The Strobe' (another KLF book) by Ian Shirley; and finally 'Accidentally Wes Anderson', a wonderful book if you are into the films of Wes Anderson or the power of Instagram.

Lastly, the bottom shelf – most prominently, a framed postcard of arguably my favourite illustration from Boneshaker Magazine and a space for my treasured Midori Traveler's daily notebook.
Book list – 'Kill Your Friends' by John Niven; 'Why I'm No Longer Talking To White People About Race' by Reni Eddo Lodge; and 'The Rules: The Way of The Cycling Disciple'.

These are all small insights into my life at the moment, however, these are liable to change at any given time. Don't send in Lloyd Grossman or Keith Lemon. I live in a house like this.